Dr.-Ing.
Lina
Felsner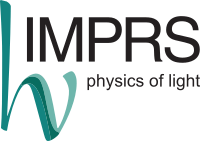 Since 10/2017:
Ph.D Student at Pattern Recognition Lab, Friedrich-Alexander University
04/2015 – 07/2017:
M.Sc in Biomedical Engineering at Friedrich-Alexander University
10/2011 – 09/2015:
B.Sc in Biomedical Engineering at Friedrich-Alexander University
08/2004 – 07/2011:
Abitur, Herder Gymnasium Berlin, with mathematical and scientific profile
International Experience:
02/2020 – 04/2020:
Visiting student with Simon Rit at CREATIS, Lyon, France
10/2014 – 04/2015:
Semester abroad at the Human Performance Lab, University of Calgary, Canada
10/2013 – 04/2014:
Semester abroad at Aalto University, Helsinki, Finland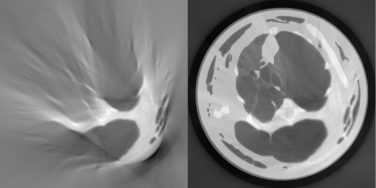 Phase-Sensitive Region-of-Interest Computed Tomography
X-Ray Phase-Contrast Imaging can provide high soft-tissue contrast. Unfortunately, all grating-based systems are limited by the grating sizes of a few centimeters. This leads to truncation in the projection images and therefore artifacts in the reconstruction.
This projects has the aim to find reconstruction algorithms to correct for phase truncation artifacts, and therefore to obtain quantitative correct phase values.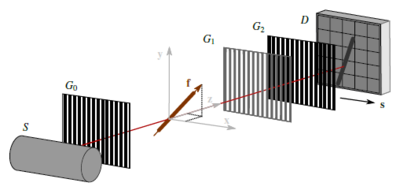 A 3-D Projection Model for X-ray Dark-field Imaging
The X-ray dark-field signal can be measured with a grating-based
Talbot-Lau interferometer. Interestingly, the signal is a function of
the relative orientation of the sample, the X-ray beam direction,
and the direction of the interferometer sensitivity.
In this project we aim at describing a very general 3-D dark-field projection model.
A 3-D Vector-field Visualizer
This vector-field visualizer enables a representation of the vectors directly in 3-D.
The visualizer is integrated into the CONRAD framework.
The link to the code repository is coming soon.
2021
Journal Articles
Conference Contributions
2020
Journal Articles
Conference Contributions
2019
Journal Articles
Conference Contributions
2018
Authored Books
Book Contributions
Conference Contributions
Miscellaneous
2017
Conference Contributions