Finalist for KI-Newcomer*innen Award 2023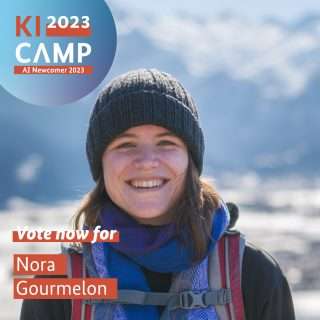 Nora Gourmelon, a PhD student at the Pattern Recognition Lab, is one of three finalists for the 2023 AI Newcomer Award in the field of natural and life sciences.
This award is granted by the German Association of Computer Science (Gesellschaft für Informatik) to young researchers under 30 years for innovative developments in the area of artificial intelligence.
Nora is nominated for her work on the classification of water end-use categories, the automatic detection of seabirds in video-based population surveys, and the Deep Learning-based localization of glacier fronts.
The award ceremony will take place in Berlin as part of "KI-Camp 2023," an event for young AI researchers organized by the German Association of Computer Science and the German Federal Ministry for Education and Research (Bundesministerium für Bildung und Forschung).
You can vote for Nora here: https://kicamp.org/ki-camp-2023/ki-newcomerinnen-2023/detail?tx_gicampaign_listview%5Baction%5D=detail&tx_gicampaign_listview%5Bcontroller%5D=Campaign&tx_gicampaign_listview%5Buser%5D=22723&cHash=fe0abffc67e3e632aedcc0b652cbb980
The public voting accounts for 30% of the final decision!