AI Newcomer Award 2023 goes to Nora Gourmelon from FAU's Pattern Recognition Lab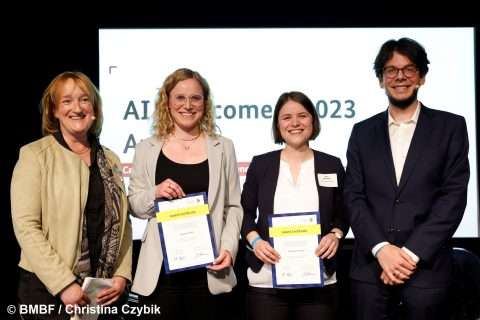 Nora Gourmelon is honored with the AI Newcomer Award 2023 in the field of natural and life sciences for her research in Green AI, a research field that tackles sustainability-related problems with AI.
In her current work, conducted as part of the International Doctoral Program (IDP) "Measuring and Modeling Mountain glaciers and ice caps in a Changing ClimAte (M³OCCA)," she is developing deep-learning techniques for extracting glacier front positions from satellite imagery.
When asked what the award means to her, Gourmelon responds: "The award helps to raise awareness of how you can also get involved in biodiversity and climate protection as a computer scientist. In addition, I am, of course, also very pleased about the great recognition for my research to date."
The AI Newcomer Award is granted by the German Association of Computer Science (Gesellschaft für Informatik) to young researchers under 30 years for innovative developments in the area of artificial intelligence.
The award ceremony took place in Berlin on April 26 as part of "KI-Camp 2023," an event for young AI researchers organized by the German Association of Computer Science and the German Federal Ministry for Education and Research (Bundesministerium für Bildung und Forschung).
The recording of the ceremony will be published here soon.
The award has also attracted the attention of the press!